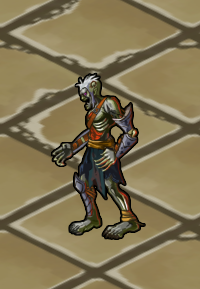 Level 5 Stats:

AC: 11
REF: 7
FORT: 11
WILL: 18
HP: 9
Level 7 Stats:

AC: 13
REF: 9
FORT: 13
WILL: 10
HP: 17
Encounter Areas
Edit
A zombie is the animated corpse of a living creature. Imbued with the barest semblance of life, this shambling horror obeys the commands of its creator, heedless of its own wellbeing.

Zombie rotters swarm the nearest living target and beat it to death.
Community content is available under
CC-BY-SA
unless otherwise noted.