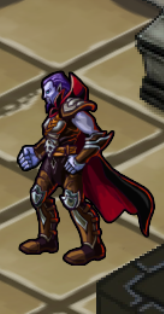 Dominating Gaze
Imperelling Strike
Razor Claw

Melee, necrotic damage
+ opponent damage vulnerability

Second Wind
Level 11 Stats:

AC: 21
REF: 19
FORT: 22
WILL: 17
HP: 144
Level 15 Stats:

AC: 25
REF: 23
FORT: 26
WILL: 21
HP: 160
Boss-Stun Immune
Encounter Areas
Edit
The vampire lord uses its dominating gaze at the start of combat to turn an enemy into a temporary ally. It uses deft strike unless it has combat advantage, in which case it uses blood drain. Once bloodied, it spends its action point to use second wind.
Community content is available under
CC-BY-SA
unless otherwise noted.