Thunderhoof Pass is a level 5 dungeon located in the Sword Mountains area.
Requirements
Edit
Adventure Description
Edit
The Old Owl Well was once an important waypoint for western traders. Now, orcs of the Many-Arrows Kingdom claim it. With trade all but vanished, the well is of little strategic value. Lord Neverember wouldn't use his own forces to seize it, but he wouldn't mind a symbolic victory in his name. Retaking the well would help legitimize his promises of returning Neverwinter to its past glory. As such, he has quietly made known that any who completes this task will be 'well' rewarded.
Adventure Unlocked (Upon Completion)
Edit
Room Layout
Edit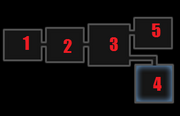 Room 3
Room 4 (bottom right of room 3)
Edit
Basic loot (gold & consumables) for all difficulties!
Community content is available under
CC-BY-SA
unless otherwise noted.