The Old Owl Well is a level 5 dungeon located in the Sword Mountains area.
Requirements
Edit
Adventure Description
Edit
Having reached the bottom of Ash Ridge, you approach the orc encampment that surrounds and defends Old Owl Well. This Adventure continues at the point that part 2 (Ash Ridge) left off.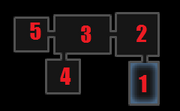 Room Layout
Edit
Door to room is locked.
Enemies: 1x Ogre Bodyguard, 1x Orc Attendant, 1x Orc Cook, 1x Eye of Gruumsh.
Treasure: 1x corpse (lootable at completion of encounter, with basic loot.)
Loot (2 loot items)
Edit
Community content is available under
CC-BY-SA
unless otherwise noted.