The Dragon Roost is a level 10 dungeon located in the Sword Mountains area.
Requirements
Edit
Adventure Description
Edit
CALLING ALL DRAGON HUNTERS!
A large white dragon has been raiding the plains between the old Phandalin mines and Conyberry. The attacks appear to be limited to livestock and horses, but are growing more and more frequent.
A sizeable reward is offered in addition to any treasure found.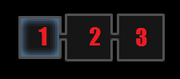 Room Layout
Edit
Room 1 (Dragon Spotted!)
Edit
Room 2 (A Dragon Hatchery)
Edit
Room 3 (Not the Father!)
Edit
Enemies: 1x Adult Green Dragon
Treasure: 1x Chest (unlocked, with item loot, refer to "Loot" section below)
(2 loot items)
1 random item among:
3 consumables
1 quest item: Jeweled Prism
Gold
Normal (3 items)Edit
Weapons
Armor
Misc