The Bandits' Lair is a level 7 dungeon located in the Sword Mountains area.
Requirements
Edit
Adventure Description
Edit
First Lieutenant Gadain was relieved by your victory over the bandits along the road to Waterdeep, though expressed concern that both humans and orcs were involved in these raids. The map you found indicates a bandit encampment just off the High Road, nestled in the westernmost reach of the Sword Mountains. There was also a note attached to the map with some cryptic messages from someone named Desram. Should you be willing, Lieutenant Gadain has asked that you find and eliminate the bandit camp.
Room Layout
Edit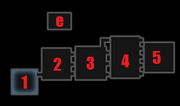 Room 4 (Target Practice)
Edit
Treasure: 1x Chest (with item loot, see "Loot" section below.)
Extra Room
Edit
Community content is available under
CC-BY-SA
unless otherwise noted.