Temple Run is a level 10 dungeon located in the Neverwinter area.
Requirements
Edit
Adventure Description
Edit
In the middle of the night, you are awoken by a strange dream: a vault deep beneath Neverwinter that holds an immense treasure hoard.
Your eyes are just beginning to adjust and the fog of restless sleep is lifting as a voice echoes in your mind: "Follow your dream. It is there. The map is under your door."
Searching about for the intruder, you find a map neatly folded and slid under your door. It bears the name "Davey Sarr."
Room Layout
Edit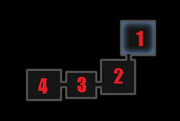 Loot (3 loot items)
Edit
Community content is available under
CC-BY-SA
unless otherwise noted.