Stomping Grounds is a level 7 dungeon located in The Crags area.
Requirements
Edit
Adventure Description
Edit
URGENT! Scouts for Lord Neverember have discovered that small bands of orcs are gathering in the Crags. These fractured clans appear to be in the process of uniting and will soom be selecting a new leader. Eliminate the potential chieftains, likely orc bloodragers, to prevent the unification.
Room Layout
Edit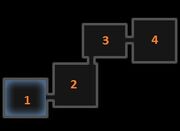 Room 1 (The Crag Foothills)Edit
Room 3 (A Clash between Clans)Edit
Room 4 (The Selection Ceremony)Edit
2 different items, 6x gold (up to 200), 2x consumables (11/20/11)

Heroic
Hard
Normal
Community content is available under
CC-BY-SA
unless otherwise noted.