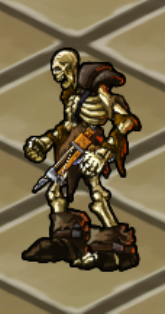 Vulnerable to radiant damage.
Level 4 Stats:

AC: 16
REF: 16
FORT: 13
WILL: 9
HP: 26
Level 6 Stats:

AC: 18
REF: 18
FORT: 15
WILL: 11
HP: 34
Level 8 Stats:

AC: 20
REF: 20
FORT: 17
WILL: 13
HP: 42
Encounter Areas
Edit
Animated by dark magic and composed entirely of bones, a skeleton is emotionless and soulless, desiring nothing but to serve its creator. Skeletons are often used as guardians in dungeons and tombs. They also serve as basic infantry in undead armies.
Community content is available under
CC-BY-SA
unless otherwise noted.