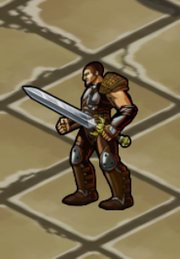 Sabre Longtooth

Melee, double normal damage
Boss - Stun Immune
Level 9 Stats:

AC: 19
REF: 18
FORT: 22
WILL: 21
HP: 80
Level 13 Stats:

AC: 23
REF: 22
FORT: 26
WILL: 25
HP: 96
Encounter Areas
Edit
Descended from humans and lycanthropes shifters resemble humans with animalistic features. Some are ruthless brigands and wild brawlers, while others are heroes.
Shifters are sometimes called "the weretouched" because they're descended from lycanthropes. Shifters value their self-reliance, physical prowess, and freedom. They are spiritually drawn to gods of nature, the moon, and primal power.
Community content is available under
CC-BY-SA
unless otherwise noted.