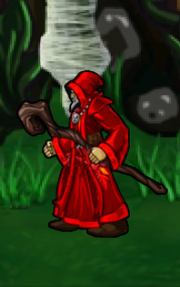 Black Vapors

Ranged, poison damage
Burst damage, poison
Ongoing damage, poison
- opponent attack

Death Bolt

Ranged, necrotic damage
Causes opponent to retreat

Evervating Burst

Ranged, necrotic damage
Slows
Level 9 Stats:

AC: 22
REF: 22
FORT: 24
WILL: 25
HP: 76
Level 10 Stats:

AC: 23
REF: 23
FORT: 25
WILL: 26
HP: 80
Level 11 Stats:

AC: 24
REF: 24
FORT: 26
WILL: 27
HP: 84
Level 12 Stats:

AC: 25
REF: 25
FORT: 27
WILL: 28
HP: 88
Level 14 Stats:

AC: 27
REF: 27
FORT: 29
WILL: 30
HP: 30
Encounter Areas
Edit
The Red Wizards are the masters of Thay, the conquerors of that land's native Rashemi, and the would-be magical overlords of Faerûn. They focus on a school of magic more intently than any specialist, achieving incredible mastery of magic within a very narrow focus. Seen as cruel and evil tyrants by people across Toril, a few choose to leave their region, assume secret identities, and practice magic without having to worry about political alliances and possible slave uprisings. Early in their careers, would-be Red Wizards specialize in a school of magic. All Red Wizards have some skill as a specialist wizard, and most follow that path exclusively, but a few dabble in other sorts of learning (such as combat or divine magic).
Community content is available under
CC-BY-SA
unless otherwise noted.