Red Mist Rising is a level 8 dungeon located in the Neverwinter Wood area.
Requirements
Edit
Adventure Description
Edit
Reports of monsters stalking the Neverwinter Woods and attacking any who travel there have reached the city. The vary wildly: Some claim the creatures are devils, others swear they are vampiric, while others believe them to be a band of spellplagued woodsmen. Given this disparity, General Sabine is wont to dismiss the matter as unfounded rumor, but has nonetheless authorized a reward for any willing to learn the truth.
CAUTION: Corrupt spiders were previously reported in the same area.
Room Layout
Edit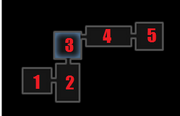 Room 1 (The Feeding)
Edit
Room 2 (Thick of the Woods)
Edit
Room 3 (A Source of Corruption)
Edit
Room 4 (Rock-Filled Corridor)
Edit
Room 5 (A Circular Set of Stones)
Edit
Weapon
Armor
Implement
Helm