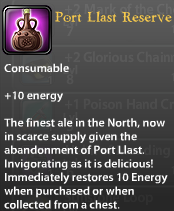 The finest ale in the North, now in scarce supply given the abandonment of Port Llast. Invigorating as it is delicious! Immediately restores 10 Energy when purchased or when collected from a chest.
Buy Price: 8 AD / - G
Sell Price: Cannot be sold
Known Locations
Edit
Community content is available under
CC-BY-SA
unless otherwise noted.