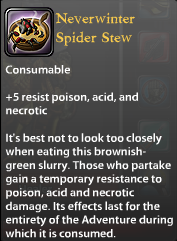 It's best not to look too closely when eating this brownish-green slurry. Those who partake gain a temporary resistance to poison, acid and necrotic damage.Its effects last for the entire of the Adventure during which it is concumed.
+5 Resist poison
+5 Resist acid
+5 Resist necrotic
Buy Price: 5 AD / 50 GP
Sell Price: 7 GP
Known Locations
Edit
Community content is available under
CC-BY-SA
unless otherwise noted.