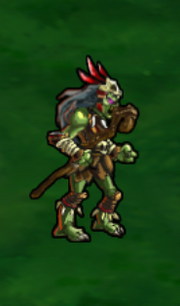 Stunning Hex

Ranged, force damage
Effect: Stun

Vexing Hex

Ranged, no damage
Effect: -AC
Level 3 Stats (conf 06/07/2012):

AC: 13
REF: 11
FORT: 10
WILL: 12
HP: 40
Level 5 Stats:

AC: 17
REF: 15
FORT: 14
WILL: 16
HP: 56
Level 8 Stats:

AC: 18
REF: 16
FORT: 15
WILL: 17
HP: 60
Level 10 Stats:

AC: 20
REF: 18
FORT: 17
WILL: 19
HP: 68
Encounter Areas
Edit
The goblin hexer uses lead from the rear to turn nearby allies into meat shields while it casts vexing cloud around itself and its closest allies and enemies. It then targets an enemy defender with stinging hex and uses its blinding hex on foes making ranged attacks. When another goblin within 10 squares uses goblin tactics, the goblin hexer uses incite bravery to allow that goblin to make a free attack.
Community content is available under
CC-BY-SA
unless otherwise noted.