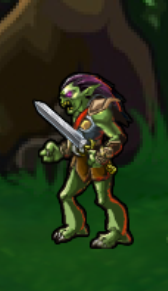 Level 1 Stats:

AC: 13
REF: 11
FORT: 9
WILL: 8
HP: 1

Level 5 Stats:

AC: 17
REF: 15
FORT: 13
WILL: 12
HP: 17
Encounter Areas
Edit
Goblin cutters—like all goblins—don't fight fair. They gang up on a single enemy and quickly take advantage of goblin tactics to achieve flanking positions. If it dawns on them that they're losing the battle, they flee, hoping to live to fight another day.
Community content is available under
CC-BY-SA
unless otherwise noted.