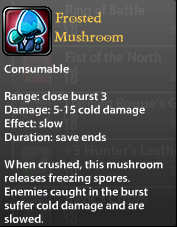 When crushed, this mushroom releases freezing spores. Enemies caught in the burst suffer cold damage and are slowed.
Range: Close burst 3
Damage: 5-15 cold damage
Slows opponent
Buy Price: 6 AD / 90 GP
Sell Price: 13 GP
Known Locations
Edit
Community content is available under
CC-BY-SA
unless otherwise noted.