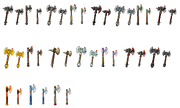 Battleaxes are long shafted. double headed axes designed to slash and hack opponents into little bits and chunks.

Note: Due to recent changes to the game, a lot of prices and known locations indicated on the item lists became outdated and have been removed. For up-to-date information on prices and known locations, consult the item pages individually instead.
Mayor Adam West 22:20, July 5, 2012 (UTC)
.
Unique Battleaxes
Edit
Level 10 Battleaxe, 2-Handed, Unique
Class Restriction: Fighter
Attack Bonus: +3, +5 when bloodied
Damage: 5-19, 10-24 when bloodied
Critical Hit Range: 20
Critical Hit Damage Bonus: +5-30
-4 AC penalty when bloodied
Level 9 Battleaxe, 2-Handed, Unique
Class Restriction: Fighter
Attack Bonus: -2
Damage: 6-15
Critical Hit Range: 20
Critical Hit Damage Bonus: +4-24
+1 STR
+1 CON
Level 9 Battleaxe, 2-Handed, Unique
Class Restriction: Fighter
Attack Bonus: +2, +3 vs beasts
Damage: 3-12, 6-15 vs beasts
Critical Hit Range: 20
Critical Hit Damage Bonus: +4-24
+3 resist poison
Level 3 Battleaxe, 2-Handed, Unique
Class Restriction: Fighter
Attack Bonus: +1
Damage: 2-11
Critical Hit Range: 19-20
Critical Hit Damage Bonus: +3-18
Level 10 Battleaxe, 2-Handed
Class Restriction: Fighter
Attack Bonus: +3
Damage: 4-13, 2 ongoing fire
Critical Hit Range: 20
Critical Hit Damage Bonus: +4-24 fire
Level 10 Battleaxe, 2-handed
Class Restriction: Fighter
Attack Bonus: +2
Damage: 3-12
Critical Hit Range: 20
Critical Hit Damage Bonus: +4-24
+5 healing received
+1 to saving throws
Level 10 Battleaxe, 2-Handed
Class Restriction: Fighter
Attack Bonus: +2
Damage: 4-14, 3 Ongoing
Critical Hit Range: 20
Critical Hit Damage Bonus: +4-24
Level 10 Battleaxe
Class Restriction: Fighter
Attack Bonus: +3
Damage: 4-13
Critical Hit Range: 20
Critical Hit Damage Bonus: +4-24 cold
+9 resist cold
+1 FORT
Level 8 Battleaxe, 2-Handed
Class Restriction: Fighter
Attack Bonus: +2, +4 with At-Will Powers
Damage: 3-12, 5-14 with At-Will Powers
Critical Hit Range: 20
Critical Hit Damage Bonus: +4-24
Level 7 Battleaxe, 2-handed
Class Restriction: Fighter
Attack Bonus: +2
Damage: 3-12
Critical Hit Range: 20
Critical Hit Damage Bonus: +5-30
Level 7 Battleaxe, 2-Handed
Class Restriction: Fighter
Attack Bonus: +2, +5 vs bloodied targets
Damage: 3-12
Critical Hit Range: 20
Critical Hit Damage Bonus: +4-24
+2 healing received (when bloodied)
Level 7 Battleaxe, 2-Handed
Class Restriction: Fighter
Attack Bonus: +2
Damage: 4-13
Critical Hit Range: 20
Critical Hit Damage Bonus: +4-24
+1 AC, +2 when flanked
+2 REF when flanked
Level 6 Battleaxe
Class Restriction: Fighter
Attack Bonus: +2
Damage: 3-12
Critical Hit Range: 19-20
Critical Hit Damage Bonus: +4-24
Level 6 Battleaxe, 2-Handed
Class Restriction: Fighter
Attack Bonus: +2, +3 vs. Undead
Damage: 3-12, 6-15 vs. Undead
Critical Hit Range: 20
Critical Hit Damage Bonus: +4-24 radiant
Level 5 Battleaxe
Class Restriction: Fighter
Attack Bonus: +1, +2 with Dragonbreath
Damage: 1-10, 6-16 with Dragonbreath
Critical Hit Range: 20
Critical Hit Damage Bonus: 3-18
+5 resist fire
Level 5 Battleaxe, 2-Handed
Class Restriction: Fighter
Attack Bonus: +1, +3 vs. Orcs
Damage: 2-11, 6-15 vs. Orcs
Critical Hit Range: 20
Critical Hit Damage Bonus: +3-18
Level 4 Battleaxe, 2-handed
Class Restriction: Fighter
Attack Bonus: +1
Damage: 3-12
Critical Hit Range: 20
Critical Hit Damage Bonus: 3-18
+1 to saving throws
Level 4 Battleaxe, 2-handed
Class Restriction: Fighter
Attack Bonus: +1, +3 with Steel Serpent Strike
Damage: 2-11, 4-13 with Steel Serpent Strike
Critical Hit Range: 20
Critical Hit Damage Bonus: +3-18
Level 3 Battleaxe, 2-handed
Class Restriction: Fighter
Attack Bonus: +1
Damage: 2-11, 2 ongoing fire
Critical Hit Range: 20
Critical Hit Damage Bonus: +3-18 fire
Level 2 Battleaxe, 2-handed
Class Restriction: Fighter
Attack Bonus: +1
Damage: 2-11
Critical Hit Range: 20
Critical Hit Damage Bonus: +3-18 cold
+5 resist cold
+1 FORT
Level 2 Battleaxe, 2-handed
Class Restriction: Fighter
Attack Bonus: +1
Damage: 2-11
Critical Hit Range: 20
Critical Hit Damage Bonus: +3-18
Level 1 Battleaxe, 2-handed
Class Restriction: Fighter
Damage: 1-10
Critical Hit Range: 20
Critical Hit Damage Bonus: +1-6
Level 1 Battleaxe, 2-handed
Class Restriction: Fighter
Damage: 2-11, 3-12 vs goblins
Critical Hit Range: 20
Critical Hit Damage Bonus: +3-18