Ash Ridge is a level 5 dungeon located in the Sword Mountains area.
Requirements
Edit
Adventure Description
Edit
Recapturing Old Owl Well is one step closer to being realized. This Adventure continues at the point that part 1 (Thunderhoof Pass) left off. Traverse Ash Ridge into the valley that contains Old Owl Well.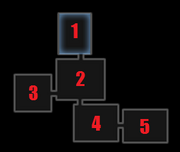 Room Layout
Edit
Room 1 (Ash Ridge)
Edit
Room 2 (Sharp Switchback)
Edit
Room 3 (Spider Riders)
Edit
Room 5 (Clearing Before Old Owl Well)
Edit