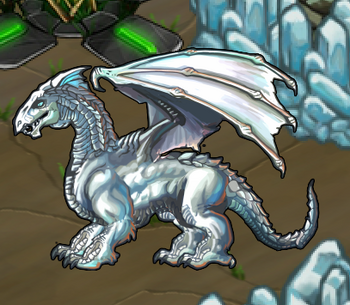 Cold Breath

Ranged
Burst damage, cold
Effects: Slow, Weaken

Dragon's Fury

Melee, normal damage
Extra hits on successful strike (4 hits)

Bloodied Cold Breath

Activated on bloodied
Ranged
Burst damage, cold
Effects: Slow, Weaken

Frightful Presence

Effects: Stun (multiple targets), -opponent attack (multiple targets)

Dragon Bite
Boss - Stun Immune
Resist cold: - cold damage
Level 11 Stats:

AC: 24
REF: 22
FORT: 32
WILL: 24
HP: 168
Level 13 Stats:

AC: 26
REF: 24
FORT: 34
WILL: 26
HP: 176
Level 14 Stats:

AC: 27
REF: 25
FORT: 35
WILL: 27
HP: 180
Encounter Areas
Edit
White dragons are savage, heartless beasts driven by hunger and greed. What they lack in intelligence, they make up for in ferocity. They breathe terrifying blasts of ice and primarily dwell in cold climates. White dragons like to swoop down on their enemies from above or spring up from a hiding place beneath snow or ice.
A white dragon uses its frightful presence first and spends 'an action point to unleash its breath weapon. Thereafter, the dragon uses dragon's fury until its breath weapon recharges (spending its second action point so that it can use its breath while also making claw attacks). White dragons usually fight until slain.
Community content is available under
CC-BY-SA
unless otherwise noted.