A Pirate's Life is a level 7 adventure located in the Sword Mountains area.
Requirements
Edit
Adventure Description
Edit
A Luskanite pirate named Kajin has located a hidden treasure vault in Helm's Hold and plans to strip it bare. The tattered designs you took from the bandit camp indicate a spot along the city wall where Kajin plans to break directly into the vault. Use this information to stop the robbery before Kajin can return to Luskan!
Room Layout
Edit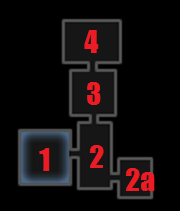 Room 2a (Locked Room: An Odd Little Book)
Edit
2 Traps
Chest: Basic Loot
Choose: either loot Kajin (Adventure ends) or move on to the Vault (next Room)
Vault (chests, some locked, some unlocked)
Enemies: now appearing back in Room 3: Lieutenant Gadain , 2x Officers ( 1x Cleric , 1x Rogue )
Loot Lieutenant Gadain (Adventure ends)
Kajin

Lieutenant Gadain
Kajin
Vault followed by Lieutenant Gadain:
Kajin:
Vault followed by Lieutenant Gadain:
Community content is available under
CC-BY-SA
unless otherwise noted.