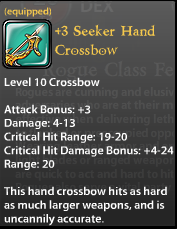 This hand crossbow hits as hard as much larger weapons, and is uncannily accurate.
Level 10 Crossbow
Attack Bonus: +3
Damage: 4-13
Critical Hit Range: 19-20
Critical Hit Damage Bonus: +4-24
Range: 20
(Since May 10th, 2012)
Buy Price: 50 AD / 1600 G
Sell price: 240 G
Known Locations
Edit
Mercenary Arms Depot
The Dragon's Roost (Heroic, Normal; Wizard)
A Pirate's Life (Heroic - Kajin, Lt. Gadain; Rogue, Wizard)
Behind the Falls (Heroic) (Random spawn, no longer seems to be dropping)
Corruption (Normal; Rogue)
It Lives! (Heroic, Normal; Cleric, Fighter)
Temple Run (Heroic, Normal; Cleric, Fighter, Wizard)
Poison Heart (Hard; Rogue)
Big Bad Battleaxe (Heroic; Wizard)
Red Mist Rising (Heroic; Rogue, Wizard)
The Vault of Gauntlgrym (Hard; Wizard)
Black Dawn Breaks (All difficulties; Wizard, Rogue)
Community content is available under
CC-BY-SA
unless otherwise noted.