Crafted by the finest dwarf armorsmiths, this armor was once available only to dwarves. This suit is particularly well made.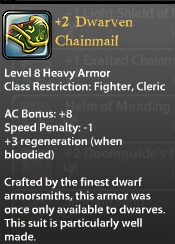 Level 8 Heavy Armor
Class Restriction: Fighter, Cleric
AC Bonus: +8
Speed Penalty: -1
+3 regeneration (when bloodied)
Buy Price: 21 AD / 1050 GP
Sell Price: 157 GP
Known Locations
Edit
Community content is available under
CC-BY-SA
unless otherwise noted.