The surface of this orb is rutted with fine grooves, as if etched with rivulets of corrosive acid.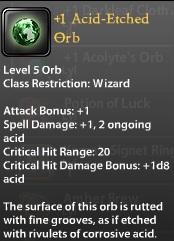 Level 5 Orb
Class Restriction: Wizard
Attack Bonus: +1
Spell Damage: +1, 2 ongoing acid
Critical Hit Range: 20
Critical Hit Damage Bonus: +1d8 acid
Buy Price: ? AD / 800 G
Sell Price: 120 G
Known Locations
Edit
Community content is available under
CC-BY-SA
unless otherwise noted.